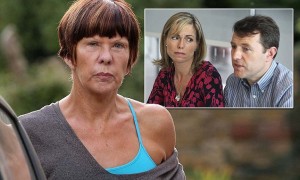 If ever there was a bunch of cunts who deserve a proper good cunting, it's the cunts at Sky News.
Ever vigilant for the opportunity to make up a good story out of fuck all, Sky sent it's ace reporter Martin Brunt scouring the pages of the Leicester Mercury for a non-story and he came up with a housewife who, like tens of thousands of others, doesn't like the McCanns. Unable to tell an internet troll from a hole in his arse, Brunt proceeded to handbag the poor cow on her doorstep on national TV.
Having been publically vilified for doing not a lot, she committed suicide the next day.
Well done, Sky News. Hope you're feeling really proud of yourselves. It's just a shame you don't turn your efforts towards some real investigative reporting. Can I perhaps suggest the McCanns, their lucrative charity and what actually happened to their daughter?
Nominated by: Dioclese
A cunt who doesn't want to end up dead in a hotel room tommorrow.