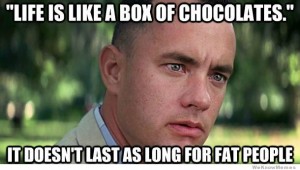 Professor Dickhead, Head of the School of Health and Human Performance at some Canadian University says: "Obesity is an insidious disease, you become desensitised to it and that's exactly what's happening in Canada – people are becoming desensitised to seeing obese children."
And that's why there's so many fat cunts. Wankers like that saying obesity is a disease. What a load of fucking horse shite.
Cancer is a disease.
Malaria is a disease.
The bubonic plague is a disease.
Obesity is NOT a disease!
Lazy cunts sitting around eating more food every day than your average African child eats in a lifetime is not a disease. It's greed. It's gluttony.
* * * * IT . IS . NOT . A . DISEASE * * * *
"Oh, I can't help the fact I just ate a family-sized bucket of KFC. I have a disease."
No you don't. You're just a cunt who likes eating too much.
And the children? Insatiable little piggies who will develop heart disease, high blood pressure and diabetes before they reach puberty and will take up hospital beds because they couldn't fucking eat properly. Think how much money these feckers are costing the health care system.
I dated a chubby once, had to douse the cunt in talcum and look for the wet spot to have sex with her. I heard she carked it munching on a haunch of beef a few years back. Pity, she sure could cook.
Nominated by: Sterculian Rhetoric