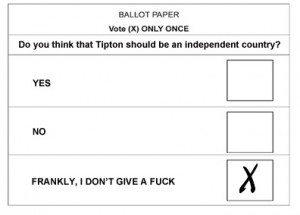 This secession malarkey is addictive. I've always advocated the removal of Tipton from the union thus forming the 'Tipton Independent Territory' or what about: 'Cede Unite Nationhood Tipton.' Trips off the tongue doesn't.
My first act as 'Urbancuntbumfuhrer' would be to annex Netherton and Stourbridge. England can keep Birmingham and Dudley. As for Smethwick- a mysterious fire will ravage the district from the Dudley Road to the marches of Ickneild Port. The devastation will be total; no change there then.
For Tiptonites there will be subsidies on Carlsberg Special Brew, hot chips and blue pop. All male children will be henceforth known as 'Ronaldo.' Female brats will have the choice between 'Char'mane or Shi'anne (how's that for democracy). Matching shell suits will be compulsory for couples. Dentistry will be abolished and public inebriation reinstated. All Council houses will be fitted with immense satellite dishes. As always Tiptonites will look to the East. Vast stretches of industrial wasteland beckons. Arise Tiptonites, arise!
The streets will resound with the refrain: 'Hail Flaxen Saxon.' I also intend to ally the Tipton grout with the Zimbabwe dollar. Currently one Tipton groat will buy 100 billion Zim dollars, no make that 500 billion Zim dollars……
Nominated by: Flaxen Saxon