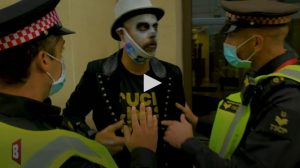 Can I have a "I'm here for the trees, the bees, the seas, and the cats" cunting for the " Rainbow surfer.
No, I'd never heard of this cunt either, but he's made the news recently at a " reparation rebellion " protest.
https://www.breitbart.com/europe/2020/09/07/london-police-arrest-extinction-rebellion-leader-rainbow-surfer/amp/
Apparently, XR are joining farces with Black Lies Matter cunts and targeted Lloyd's in Londonistan, because slavery was apparently " manufactured and nurtured there."
He was detained so the rozzers could issue him a fine for breach of COVID legislation related to organising mass gatherings.
He said," I don't understand your authority, I'm here for the trees, the bees, the seas, and the cats" . Why he mentions cats I have no idea, but then, he is a man of substantial cuntitude.
He was subsequently arrested for trying to walk away, which he was warned against.
The rozzers lead him away to a van and asked " what's your name " to which this cunt of cunts replied " you can refer to me as the Rainbow Surfer".
Not only is he/it a cunt for being part of the Eco fascist XR, but the cunt was wearing a top hat, his face whitewashed, but he was wearing what looked like a fucking dress. Utter, utter cunt.
Nominated by: Cuntington Smythe