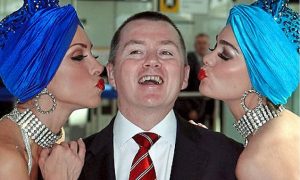 A greedy Fat Cat, I've had all the cream, cunting for British Airways 'Boss' Willie Walsh.
While coronavirus has grounded most planes & passenger numbers fell by 98%, BA's finances are in freefall. Thousands of pilots, crew & ground staff are being sacked or forced to take substantial pay cuts.
Walsh, meanwhile is taking a £833,000 annual 'bonus' which brings his 2019 BA salary to an eye watering £3.2 Million.
During his last 9 years in charge, he has pocketed £33 Million in salary & bonuses.
His parting gift to his disgruntled employees is to axe 12,000 staff, and to impose new contracts on those that remain, that include a clause where BA can ask staff to stay at home for indefinite periods, unpaid, if the airline deems it so. Sounds like a fancy way of putting all the staff on Zero Hour contracts to me.
What a massive Cunt !
Nominated by: Lord of the Rings