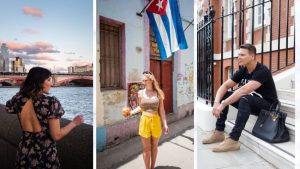 "SOCIAL INFLUENCERS":
A group of mainly young exhibitionist tarts and soy boy pansies have for the past couple of years, infested the internet, like flies found a cow's arsehole. Bereft of any real intelligence, but blessed with a total lack of self awareness, chutzpah and brazen self-regard, they "earn" a fortune poncing off, and arse-licking international companies. The "social influencers", however are finding life tough now:
https://www.bbc.co.uk/news/business-52362462
Trust the BBC to concern itself with a boy who doesn't know where his next expensive handbag is going to come from.
These people are ponces, pure and simple – the girl who wants you to send her a "gift" or money – why doesn;t she work for it, by hanging round Soho like honest prostitutes?
Hopefully the pandemic will result in a lot of unemployment – not the poor devils who work for minimum wage, often doing unpleasant and physically hard work, but these young cunts who think the world owes them a living and an affluent lifestyle for doing fuck all except mincing about with their cameras.
Nominated by W. C. Boggs