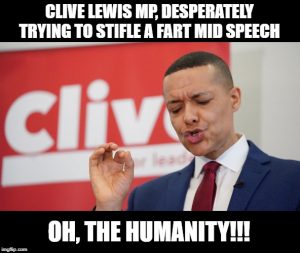 Labour leadership candidate Clive Lewis has said there should be a referendum on the future of the Royal Family.
Speaking at his campaign launch in London, he said: "A lot of people would like to see the monarchy scaled down. Publicity for my campaign, waffle waffle , court controversy, waffle waffle waffle . I'm a cunt, power to the people! Etc….
The Labour Party: what the fuck is going on? It's like they have become a gigantic meta-cunt. Politicians are generally a reprehensible bunch of arse, but Labour just seems to be imploding. I wonder if there isn't some sort of brain disease infecting them with a 1970s Communist cunt virus that's escaped from a lab in Siberia due to climate change melting the permafrost that they buried their guinea pigs from the gulags in.
Please Labour, get a fucking grip. Without decent opposition, governments however well intentioned get stupid in short order. And right now, with front runners like this fuckwit, we could actually find ourselves without any decent checks and balances, and relying on Nicola Sturgeon to provide that essential opposition. You couldn't make it up…thank fuck it's Friday (at the time of writing).
Nominated by GGRF
Clive Lewis: Talk about a stuck fucking record! Thursday night, he was on question time, whining on about how the Sussex woman (I'm not saying her name, I'm sick of hearing it) fucked off to Canada because of all the racism she experienced in the UK, though I don't think anyone really gave a fuck and I can't imagine she was actually abused in person. You don't meet many people when you're either in a palace, a mansion, or a private jet.
Then on some Sunday politics programme, Labour leader hopeful Clive brings up the subject of racism again, this time implying that the Brexit vote was only successful because Boris and Farage appealed to the racists with their inflammatory rhetoric. He then went on to say that there were many black people that were scared on the morning of the result. Not sure why, because many were probably born here, and those that weren't probably didn't come from Europe, so how would leaving the EU make a difference to them more than anybody else?
It seems that with the Labour Party leadership election, there isn't a candidate that hasn't called half the electorate racist, sexist or thick.
Didn't they learn anything from Hilary and her basket of deplorables quote, or their massive failure at the last election?
Nominated by Gutstick Japseye
Not enough votes to get nominated? Never mind, Clive. Don't let the door hit your arse on the way out.