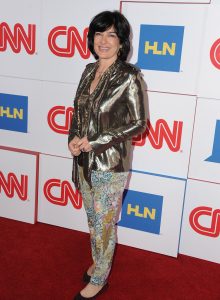 Christiane Amanpour
This smug old cabbage with her hamster face, who sounds like an English jolly hockey sticks schoolgirl but looks decidedly Anglo-Indian, has been eyeballing us from CNN for over 30 years. She was a looker in her younger days and made her reputation by giving Bill Clinton a public bollocking over his pitiful performance in Bosnia.
Nothing wrong with that because Clinton was too busy fondling any female who came near him – except Hillary the Horrible of course – and was a coward, hypocrite and disgrace to his office. (Despite this, she was a friend of the Clintons and married his press spokesman. Whether she let Clinton fondle her is not known but let´s wait for her memoirs.)
However, by making her personal views known, Amanpour moved the boundaries and led reporters thinking they could take sides. As an ex-hack, I think that when reporters starts putting their spin on events it becomes their opinion and not objective. This is the case nowadays when most reporting comes from a politically correct aspect and items that would never even have been regarded as news in the past, such as a famous actor groping someone 40 years earlier or a well-known person telling a "racist" joke, become front-page stories.
Look at how people like Woody Allen and Kevin Spacey (both overrated in my view for what it´s worth) have become pariahs.
Apparently Amanpour is a member of the Center for Public Integrity whatever that is. I wonder if Bill or Hillary are also members.
Nominated by Mr Polly