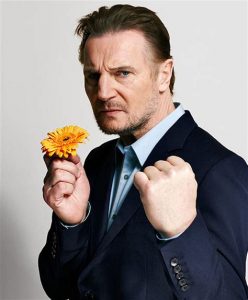 A quick mini cunting for Liam Neeson.
Following on from saying the following about the aftermath of a friend allegedly getting struggle-snuggled by a person of sooty persuasion, Neeson said: "I went up and down areas with a cosh, hoping I'd be approached by somebody – I'm ashamed to say that – and I did it for maybe a week, hoping some 'black bastard' would come out of a pub and have a go at me about something, you know? So that I could … kill him."
The cunting is because he's now apologised and done all the usual part denial, part contrition, rather than coming out and admitting that yes, he's a bit racist, same as most of us, especially blacks, Muslims and snooty Indians.
Fucking chicken shit.
Nominated by Thomas The Cunt Engine
Liam Neeson is a cunt…
I think the old bugger has gone mad… Everyone knows what he said and the 'racist' shitstorm (yeah, another one) it has kicked up… But fancy putting such a huge target on your own back for snowflakes and chippy uppity never done no wrong, no sir blambos to fire at….Neeson is a cunt for giving these cunts something (else) to moan about and for putting white western men in a bad light (and don't we get enough of that?)….
On the other hand, these black rap cunts are 'allowed' to put out crap like 'Cop Killer' and 'Fuck Tha Police' and no fucker bats an eyelid… While shitfaces like Azelia Banks and Buggerdorf Munro are 'allowed' to be as racist to white people as they like.. Fucking bollocks…
Nominated by Norman