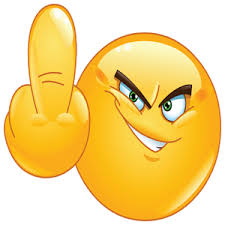 Emoji's is a cunt.
I've been on here for a fairly long time now and like to think of myself as part of the furniture, but I am getting concerned with certain behaviour.
The Emoji, what's wrong with good old fashioned letters and numbers? I come on here to have a whinge about some cunt or cunts, the last thing I want to put is an Emoji. It reminds me of the early text message days when some cunts would write in some shortened way that only a fellow cunt could understand. Anyways before anyone calls me an old cunt I'm 38 and I refuse to use the Emoji.
Emoji's fall in the same category as Twatter, Cuntbook, queuing outside an Apple store for the new iPhone, and high fives.
What a piece of cunt. (is there an Emoji for that).
Nominated by Black and White Cunt