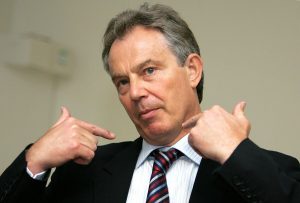 Whille we're on the subject of Labour scum. Blair has once again stuck his head above the parapet. As we know, we need to negotiate our new relationship with the Fourth Reich over in Brussels. As we also know, this will be pretty complex. So, up pops Tony Blair, like the eternal foul stench, once again pretending to be our saviour and offering his services as a negotiator.
Apart from the fact Blair is a filthy, murdering, money whore, lying, arrogant, ignorant, dishonourable, dishonest, conniving, warmongering, bloodthirsty traitor. He never does ANYTHING unless there is something in it for Tony Blair. His chances of a cushy job in Brussels have been shot to shit, so I can only imagine that Blair considers this an opportunity to once again raise his profile and be seen as some kind of hero. He seems to need the adoration of the public. The big problem he faces, is that everyone on Planet Earth knows that he's a massive cunt.
Still, he can't resist the opportunity of taking part in a high profile negotiation. Whoever turns out to be our next Prime Minister, their first job should be telling Blair to fuck off, and shove a live hand grenade up his arrogant arse. Let's not forget, it was Blair who gave up part of our rebate on the money that the EU steals from us each year.
Though not for much longer…
Nominated by: Quick Draw McGraw