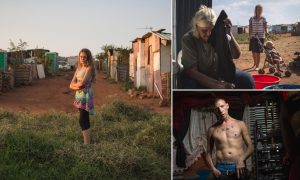 The world cheered as Nelson Mandela was freed from prison to rule over South Africa, in what now seems a one party state.
Now the world would see what the majority race of people in South Africa would be capable of.
Well, today I've read another story of this country's demise. It seems Johannesburg is a big crumbling mess of a city, with criminal gangs taking over derelict buildings and illegally renting rooms out. Mostly to illegal immigrants from other African countries, whom the natives want out of the country according to this article (Diversity is a strength…just in honky countries though).
Because of some daft housing laws brought in by the ANC, they can't do much about it.
Let's have it right…South Africa has gone to shit since the ANC took over and it gets worse every year.
Can't think why though. It's a mystery to me, I can tell you.
Nominated by Cuntybollocks.