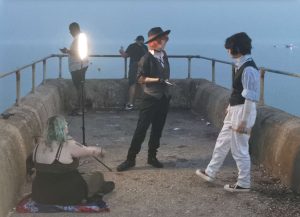 What to do on the hottest day of the year? A good time to take an evening prowl down Brighton Beach to spot the lights. Usually a few signals to/from the illegals dinghies (Brighton is proudly Immigrant Friendly) or a drugs haul coming ashore (Brighton is proudly Drugs Friendly) or a few ID flashes from LGBT+- groups (Brighton is proudly…). Failing that the fiery glow of red hot pebbles from fading hippie fires (try not to step on the spaced out cunts or the hippy shit). Add to that the flickering firmament of mobile phones as far as the eye can see and there is no time to gaze upon natural wonders like the Super Moon (very prominent down here) reflecting in the sea let alone the stars above.
I know boring boring Sir Limply is on the piss again. Maudlin drunk. But fuck me there are bright searchlights springing up all over. A new phenomenon which on investigation turn out to be Brighton Beach trendies setting up their smartphones on tripods with ring lights and microphones (all available in the Pound Shop).
In short this weird breed of work shy cunts that call themselves "Influencers". A non title for a non job. Fat slags with enhanced lips like chimps fannies flogging their on trend beauty tips online to other fat slags with….Not to forget their allegedly male counter parts with their skinny suits abd fluorescent white teeth.
Feast your eyes on the little tableau above I snapped at the groyne beside the pier. Pictures speak louder than words.
Nominated by : Sir Limply Stoke