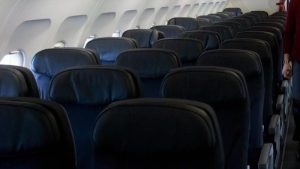 An unnamed Air Canada pilot is a cunt.
A couple boarded their flight, only to be met with two vomit covered seats. The cabin crew did their best to clean up the spew from the previous flight, but parts of the seating and belt area still had little puddles of smelly spew.
The flight was full and they wanted their seats cleaned so that they weren't sitting in some cunt's puke (not too much to ask, is it?). As the cabin crew sprayed perfume and used coffee grounds to hide the smell, the impatient pilot (who'd been pacing up and down wondering what the delay was) told the passengers that if they weren't happy, they could go back to the gate and get a new flight at their own expense or be put on a no flight list.
It's a shame he didn't try this on a hard, short tempered cunt who would've made him eat the puke before knocking the cunt out.
I get pilots have deadlines,blah blah blah…but fuck that in this case.
I hope he loses his job, the nob jockey.
Nominated by Cuntybollocks.