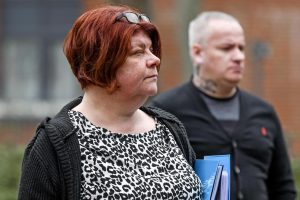 IsAC regulars need no telling that there is an enormous number of cunts about. The site's existence alone is testimony to the fact. Many of the nominees get fingered for their arrogance, ineptitude or sheer stupidity, and they deserve it when we take the piss.
But sometimes it seems that those on the end of a cunting are nothing less than evil; a disturbing case in point being that of a guy called Tom Somerset-How. Tom is a 40-year-old man from Chichester, who suffers from cerebal palsy and partial blindless. He needs 24 hour care, which was entrusted to his wife Sarah (49) and a 'carer' named George Webb (50).
Some 'care'. After systematically isolating their hapless victim from his family, the gruesome twosome subjected him to a catalogue of abuse and neglect, treating him as a 'cash cow' while having an affair. When family members and the appropriate authorities finally gained entry into his house, they found that the hapless Tom was being held in squalor. He weighed less than seven stone.
A prosecution ensued, and the jury at Portsmouth Crown Court heard evidence which included texts between Romeo and Juliet. Webb texted things like 'no food for Dickhead', with the delightful wife saying things like 'remember, we are just using him. Dickhead gets paid soon so I'll take money out of his account for weed'.
I'm very glad to say that the lad is now receiving the care he needs and deserves, while his vile tormentors have been convicted of slavery and languish in prison awaiting their sentences.
Fuck me, cases like this really get my neck up. It's just heartbreaking. If it was left to me, these utterly callous, heartless bastards would each get a 25 stretch in solitary, on a bare subsistence diet. Hanging is literally to good for them.
Nominated by Ron Knee.