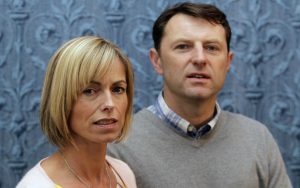 Another late spring, and once again Scotland Yard senior officershave solved the problem of where to spend this summers holiday – another month in Portugal.
Just as surely as the first cuckoo of spring, the story of this unfortunate child crops up late every May:
You can be sure her entitled, boorish parents will "demand" both a meeting with the Chief Constable, and also "demand" that Scotland Yard's four finest will be despatched to "clear up the mystery once and for all" – for the 16th year in a row.
Her parents were clearly tight as a snare drum not to pay for baby sitters that night in May 2007. Now if still alive (which I very much doubt) Maddie would be about 20 – time enough to return to the bosom of her family, should she choose so to do.
Frankly I suspect the story ended in the early May of 2007, yet we keep having to endure these expensive investigations because Mr McCann and his snooty cutie of a wife won't face up to the truth. They lost their child because of their negligence. She must be assumed lost and gone, and it is time this pair of fantasists were told so. I wonder if old ex- BBC duckie, Clarence Mitchell is still taking money for being their PR man?
Nominated by W.C. Boggs.
(She disappeared in 2007 not 1997 and has just turned 20. I've corrected the dates – Admin)