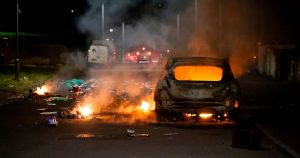 What has this country come to, when members of the public riot because the police (allegedly…at the time of writing) were trying to prevent crime, apprehend two young scrotes and regain stolen property?
Yes, apparently in Ely it's ok for two little shits to break the law, but fuck me it's not ok for the police to try and apprehend them. In doing so, these scrotes decides to try and evade arrest and in doing so killed themselves.
I have fuck all sympathy for these apprentice criminals, but I do have sympathy for the police who it would appear are not expected to solve or prevent crime in Ely. I bet if some pisshead was knocking his wife about or fiddling with his 8 year old daughter they would fucking want the full force of the police to do their job immediately and throw the book at him……but if you try and get back stolen property, then that is deemed a prevention of income for these shits and is bad form.
Nominated by Chuff Chugger.