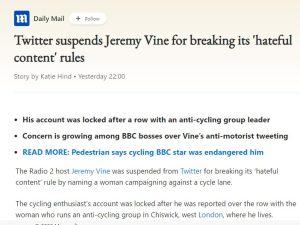 Oh dear, how sad never mind. Cunters I give you the gift that keeps on giving. One Jeremy Vine Esq, spinster of this parish.
Now he's gone and named (Allegedly) someone who has opposed his daft support of a supposedly dangerous cycle lane this twat uses on a daily basis.
It's about fucking time auntie grew a pair of cojones and assigned him to the dustbin of broadcasting history. I'm not going to hold my breath, but here's hoping.
Nominate by CuntyMort.