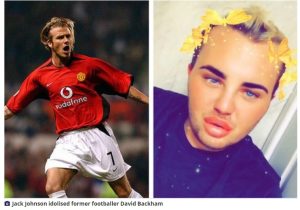 (Johnson is on the right just in case you couldn't spot the difference – Day Admin)
Driving Mr. David.
Does this bellend, despite umpteen surgical and cosmetic procedures, look anything like David Beckham?
It's a change from the overly tattooed, split-tongued, horned head/noseless/cropped eared cunts I like to share with you, but my God, he must have hamsters whirling the wheel in the cavity where his brain would normally be. What an utter fucking cunt.
(Thanks to Viz)
Nominated by: Jeezum Priest