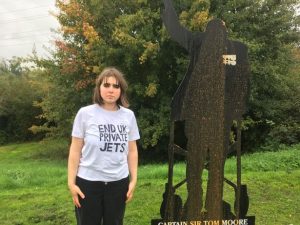 Disrespecting Captain Tom.
This appalling excuse for a human being poured a bucket load of human waste over the memorial statue of Captain Tom, as a protest against the ownership and use of private jets.
Her attempt at justifying this disgusting and disrespectful behaviour makes absolutely no sense whatsoever.
I sincerely hope she gets prosecuted and banged up, preferably with a psychopathic cell mate.
Nominated by: Jeezum Priest
Seconded by: Cuntybollocks
Some stupid lefty cunt poured human shite and piss all over Sir Tom Moore's memorial. Not a point well made.
She's been arrested. As she fucking well should be.
Sir Tom Moore was liked by most woke types. She's pissed too many off on 'her side'.
However, we've seen cunts defacing and attacking statues they deem 'colonial'.
Although a few arrests were made, for the most part, these cunts weren't arrested. What happened in London when lefties attacked and defaced statues in Trafalgar Square. Fuck all. Some right winger pisses near one and his feet don't touch the ground.
Let me make it clear, all cunts (left or right) defacing statues, even of those I don't like, Karl Marx, for example, should be locked up for criminal damage. History is history. Can't be changed so leave it as it is.
Mind you, those cunts in Bristol got let off somehow despite obvious criminal damage taking place.
I doubt this silly tart will be though. She should've poured shit on Churchill or Thatcher's statue. She'd have been let off.
Thirded by MiddleEngland with this rather excellent suggestion:
Fellow cunters – I give you Maddie Budd – the pathetic woke "protestor" who poured shit and piss over Captain Tom Moore's memorial.
This piece of human garbage "may face prosecution" I say she should have the same treatment followed by a tour of all the uk military bases where she can see how many of our fine forces members want to protest with her…
Even her own father is disgusted with her actions.
Link here admin