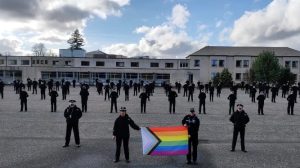 This is not a cunting of all rozzers, but of this plastic copper (PCSO) in particular. I'd use a 'better' source, but the lamestream media ignored this story, of course. It definitely happened though, the footage is out there and the cops aren't denying it.
What happened was some far lefty PCSO knocked on a woman's door who had a sticker in the window which said something like 'Trans women aren't real women.'
I agree. I wouldn't put it in my window (you're just asking for some woke prick to put a brick through it), but that's up to her.
This Stasi-esque plastic copper knocked on her door and gave her a bollocking, telling the woman to get educated and 'you need to read more, quite frankly'.
I was hoping to read some news that this little Adolf had been relieved of her duties, but I can't find such a story.
I guess she'll soon be the county's highest ranking rozzer in a few years instead, the fucking shithouse.
Fuck off.
Nominated by:Cuntybollocks