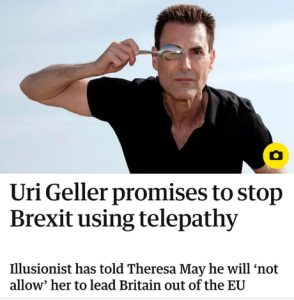 I've always hated self promoting magical Jew Urine Geller.
He's bought a island ,
Lamb island in the firth of forth for 30 grand.
Obviously it's on a ley line🙄
And according to Urine it was visited by ancient Egyptians and aliens (heavy sigh)
He says he's telepathically put a block on Vlad Putin pressing the nuclear buttons,
So basically he's saved the world.😳
In a 5 minute interview on GB news he managed to namedrop princess Di,
(A good friend) Dodi Fayed(a good friend)
And John Lennon (his best mate apparently?)
An it occurred to me,
All his friends seem to be dead?
Why is that?
To get away from him.
He's a fuckin jinx!
And a shameless bullshitter.
Spoon bender.
Nominated by: Miserable northern cunt