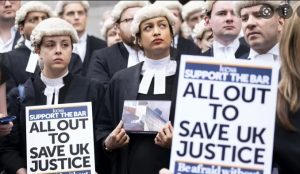 I swear by Almighty God that the biggest cunts of this week, are the bewigged buffoons holding up their strike posters, looking for all the world like hoity-toity Mick Lynch's:
The greedy, slimy, two-faced bastards are on a fair whack already. Like the dockers they can actually afford to go on strike for long periods of time.
If their job, bowing and scraping to elderly judges and their "learned friends" and acting is too much for them, I am sure the local councils in the leafy areas of the Home Counties they live in, have plenty of vacancies for lavatory attendants. After a time they might even given them a broom and a bucket, to save their soft hands.
Nominated by: W. C., Boggs
(They "only" want a 25% pay rise courtesy of the Taxpayer – Day Admin)