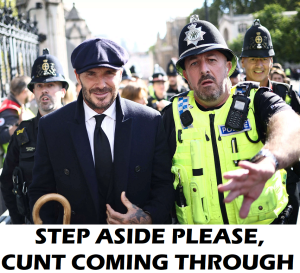 We've all seen the 14 hour queues to see the Queen lying in state.
Fair do's to those going, bit odd to me but each to their own, but I just get the feeling David Fucking Beckham joined the queue for publicity. He's a publicity hound. Indeed the news of the Queen's death was dominated by Beckham for a day.
Maybe I'm just a cynical cunt and his remorse was genuine, but I somehow fucking doubt it.
I wonder who 'encouraged' him to do this? I noticed his bag of bones didn't bother standing in a queue for 14 hours!
Nominated by: Cuntybollocks