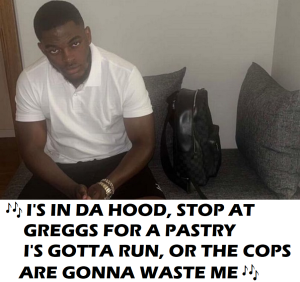 There have been some great tragedies in the world of music – the death 65 years ago this week, (1st September 1957) in a car crash of Denis Brain, probably the greatest French horn player of his generation, the death of Buddy Holly in February 1959 (if you like that sort of thing), in a plane crash, Sir Thomas Beecham in 1961. John Lennon in 1980, now, with a tear in my eye, and a hole in my sock, Mr Kaba, yet another budding rapper, who passed away, peacefully, one hopes, in Streatham last night:
Yet another rapper – another one kicked the bucket last week, a few last year – has met an untimely end through malarky with the police.
How sad that the police are being employed by the Performing Rights Society – because they were'nt performing right.
An award of some sort is needed, if not the Ivor Novello. Perhaps a Mercury, innit?
Nominated by: W. C., Boggs