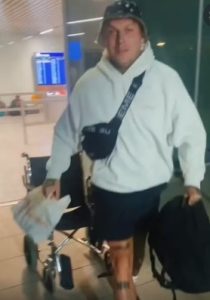 @wolfjenko
Apologies admin at the time of writing this with piss at boiling point I'm trying to find the name of this cunt but here is the link.
This cunt thinks it is funny to pretend he's disabled so he and his mates can jump the queue through airport customs etc.
His TikTok video shows him taking off a trainer and sock getting in a wheelchair and getting ushered onto a plane then at the other end, I guess in Leeds where he is from, he then gets up and walks off.
All to the amusement of himself and his mates.
Now I know we all say and do silly things in our youth but is it just me that thinks this is a step too far?
Maybe I'm the cunt for not seeing the funny side but if he takes up valuable time with airport staff genuine people in a wheelchair suffer.
If anyone can find the TikTok video and post it I hope someone identifies the cunt.
Nominated by: Onceacuntalwaysacunt
Additional supporting link provided by: Barry zuckercunt