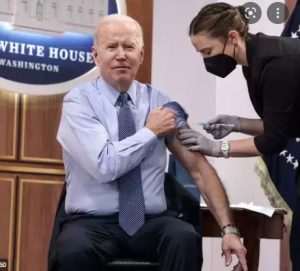 (Nurse: "Just a little prick, Mr President!")
Uncle Joe tests positive for Chinky Flu……AGAIN!
After "isolating" for 9 days it appears the hair sniffer still has the Lurgi, but no symptoms apparently. Is anyone buying this shit?
Obviously they want him out of public view for as long as possible the embarrassing old cunt. How much longer can they prop up this cardboard cutout President?
It's only the prospect of Chopper Harris taking his place that keeps him and his equally embarrassing wife in office.
Nominated by: Freddie the Frog