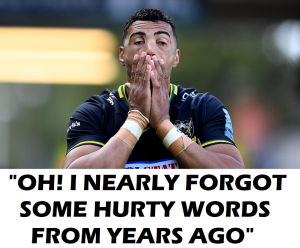 Here we go again.
"RFU will open investigation into racism at Newcastle Falcons after Luther Burrell claims"
Another ex player, and the 'ex' is significant, suddenly claims racism in his sport.
"Burrell, who won 15 caps for England between 2014 and 2016, gave an interview to The Mail on Sunday last month in which he claimed that racism was "rife" in rugby union and that he had been called a "n—–" and a "slave" by teammates."
Funny how none of this was an issue 8 years ago. Is it compo setting in? Revenge for being dropped?
Fuck me when I played colour was the least of your problems. Abuse was constant and god help you if you were ginger.
He should look warily at the oily little parking stanley who tried to destroy Yorkshire cricket and see what a glittering career he now has.
Nominated by: Cuntstable Cuntbubble