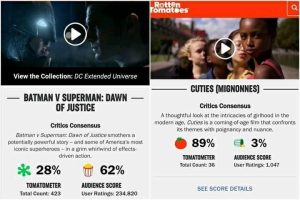 What makes the opinion of a professional critic any more valid than that of an ordinary punter?
Everyone is entitled to an opinion (although in this day and age it has to be the "right" opinion). Therefore if Mr and Mrs Mop went to the local cinema, watched the 9 hour epic "Lord of the Arseholes" and was then asked for their opinion, is a "It was utter shite" just as valid as that of some high-brow cunt (that Mark Kermode twat springs to mind) who gets paid big bucks and is fawned over by similar luvvies the world over just to say the exact opposite but written in a far more hoity-toity, arty-farty way!
Back in the 70s I used to watch the BBC's "Film 75" (or whatever year the show was relevant too), with that snug git, Barry "And why not!" Norman. Back then as a kid I thought his opinion was the be-all-and-end-all purely because he's on the idiot box and therefore must know what he's talking about.
But then over the intervening decades you find other po-faced, snug-cunt critics covering different cultural arenas such as the arts (Melvin Bragg), the theatre (Quentin Letts), music (John Amis, Simon Reynolds), house and garden (Laurence Roderick Bowen), motors (Clarkson) and of course food (Ramsey and A.A. Gill) to name but a few. But in essence they're all just giving opinions that are no more valid than that of Joe Public.
Must be a nice "job" though. Watching films (in the posh areas of cinemas and not mixing it with the riff-raff and their bloody phones); or at some exclusive celeb-only restaurant stuffing your face on expensive nosh and complaining if the fork isn't quite 5mm away from the plate; or driving around in top-of-the-range cars and having a whinge that the AC button is a bit too small to press.
But these cunts also expect VIP treatment, a few backhanders for favourable reviews (allegedly) and the expectation of keeping the items they've reviewed for free!
Of course with the advent of social media we now have a new breed of critic, the Influencer, mostly found on Instagram. These guys are mostly ordinary people who have somehow garnered a huge following of "fans".
What they do is "review" or endorse a product on their social media page. The product could be as basic as a kitchen toaster right up to a 10 day stay in a posh hotel. If they have a significant following (say running into the 100s of 1000s or more) then they do wield a lot of influence, especially for hotels and the like, many of whom run the risk of a bad review (genuine or otherwise) if they don't play ball with the whims off the Influencer.
Not only do these lucky cunts get to keep the product but also receive a small commission. But in essence they're no different to professional critics – getting paid (handsomely on occasion) just for an opinion.
Well here's my opinion: you're all a bunch of cunts!
1 star out of 10. Fuck off!
Nominated by: Technocunt