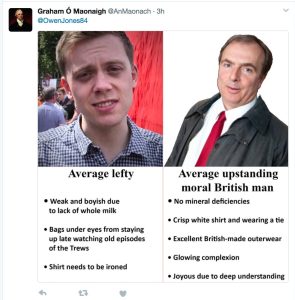 And for your cuntsideration cunters I nominate the middle aged man child who is often one to complain about harassment yet apparently appears to support harassing others
:- Owen Jones the pixie sized bum man-boy.
It seems like an ice age since this phobic anti all things normal thick as a brick Cunt made it into the news 📰 but he finally achieved this recently by imploring his followers (beggars belief ) to go and harass Dame Starman
So bum bandit boy thinks it's ok for him to encourage others to break the law by bothering the labour leader 😂. Leader 😂
He has since removed his tweet. Possibly threatened by twatter with the naughty step.
Owen sit down on that step until your head clears and your bottom stops hurting you midget brained idiot.
Nominated by: Everyonesacunt