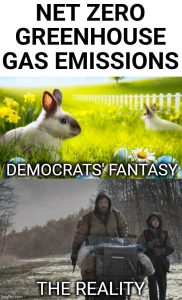 I thought it might be topical to nominate this steaming pile of the proverbial once again in the face of energy costs increasing exponentially of their own accord awaiting Net Zero to deliver the final killer blow.
Dr Benny Peiser, GWPF director, puts it more eloquently than I ever could:
"Decades of childish and misconceived green policies have done nothing to reduce global CO2 emissions and have only succeeded in stirring up intense public resistance. We are constantly told to do 'more', but more of the same will be disastrous. Renewables are futile, ineffective and have no future. Gas and nuclear have to be fast-tracked if there is any chance of publicly acceptable, long-term climate policies."
Will the new PM grasp the nettle on this (should we start saving up to buy her some Kevlar gloves to protect her dainty little hands)? Answers on a postcard to…..
Here's another link:
Environmental levies currently cost the UK economy £11 billion a year (that's £150 extra on every electricity bill and adds a further £250 to every household budget).
Plus if you need further proof that Johnson is a serial liar he stated that "renewable energy has helped reduce bills" whereas the OBR has confirmed that green levies are currently piling an extra £billion onto bills every year and forecast to rise to over £12billion in 2026.
Will a Labour/SNP coalition reverse this madness or increase it?
Start saving up for a diesel generator now before they all sell out!
Nominated by: Mikdys