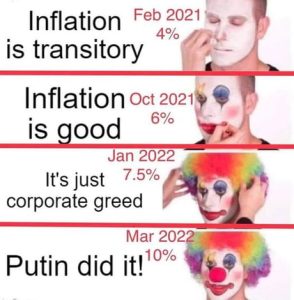 A nomination for GB news, Talk TV and other news outlets that pretend not to be MSM.
They're a bit shit.
More opinion than actual news, the only good thing is some of the interviews with people who don't get on the other channels for going 'off-message'on issues.
Other than that it's mostly monologues and 'clashes' between various dim panellists. Many of the hosts are complete fucking non-entities: Dan Wooton is perhaps the worst offender; always butting in, and once again theyve booked the lefty version of Katie Hopkins – Benjamin Butterworth – to be obnoxious and irrational for clicks.
What a pile of wank.
Also, Talk TV; more panto dressed as discussion. Julia HB should fuck off out of it and create her own podcast or start an OnlyFans.
Both channels are in lockstep wiith the 'MSM' in discussing climate change after a 2 day heatwave -'who's to blame? What's happening? What about China?
I don't fucking care. This planet is not affected, only our ability to live on it, but many things would have a far greater and immediate impact on that ; asteroid strikes, large volcanoes, even the emergence of a pan-resistant bacteria in our hospitals, which is getting ever closer. The whole climate debate is now boring as are all current affairs channels which bleat on about it.
Same with tranny bollocks and quare lgbt crap, same with pro-Ukraine drivel, same with the gaslighting over race.
Compared to the rising costs of everything, it is meaningless dogshit.
Nominated by: Cuntamus Prime