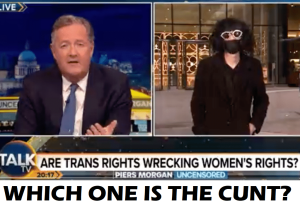 A cunting for the giggling, narcissistic imbecile and TRA (Trans Rights Activist), 'Jame', and the generation it represents.
Jame le Jambon is what happens when children go through life never being told 'no', an entitled, self-important, callous, irresponsible, unaccountable fucktard who probably doesn't believe in most of the crap it pretends to and just wants to cause trouble out of resentment. This week it's a transsexualist thug manhandling women, next week a Just Stop Oil masturbater. In a few weeks an Ext. reb. Orangutan on a train roof.
Jame is the quintessential spoilt, nihilistic, directionless millennial/zoomer twat, who is nothing without aocial media, special pronouns and fashionable nonsense.
It couldve been Chesterston who said 'those who believe in nothing will believe in anything'.
Jame is the end product of our socialist education system. Believes in nothing, so will adopt any flimsy bullshit going into its flakey worldview.
Vote Labour, get Jame
Vote Tory, get Jame
Vote Lib Dem, get Jame.
Time to start getting tough on these narcissistic freaks. Letting kids out of school early because it's a bit hot is not going to help.
Nominated by: Cuntamus Prime