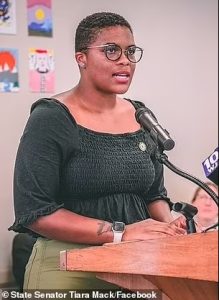 Tiara Mack is a cunt!
This is a Democratic Senator from Rhode Island Tiara Mack's latest campaign ad: (Link is not work safe, or any kind of safe quite honestly! Enjoy your brekkie – Day Admin)
About 6% of Rhode Island's population is black. That means that white people put her in office.
As she is a Democrat, that means liberals voted for her.
These are the same liberal Democrats who revere St. George of Minneapolis…bow to the climate change prodigy Greta…and voted for Ji Jing Joe.
And they call us Trumptards?
Let me amend my nomination; Tiara Mack is a cunt and so are the liberal Democrats who voted for her.
(Why do I have the feeling there will be a literal Hornapalooza among some of the IsaC faithful after watching this video?) – (A few disgusting degenerates instantly spring to mind! – Day Admin)
Nominated by: General Cuntster