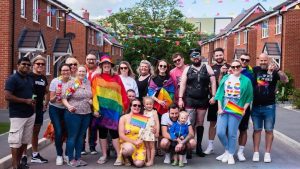 This bunch of cunts hold their own annual mini pride celebration to show how right-on and progressive they are, probably not realising that most people don't give a shit, or just view them for the cunts that they are.
I doubt whether any of them are actually gay, apart from, maybe, that revolting looking creep in the gimpsuit (who might have been bussed in from Brighton) and that other fat bearded one in the back row, next to the bird with the sunglasses, who looks like she'd rather be somewhere else.
I pity the poor little kids who are forced to take part in this, could result in some nasty bullying at school and that would be the fault of their cunt parents.
Just for the record, I don't care if someone is gay, male or female. Live your own life, fine, but stop constantly promoting it, you're just not that special.
Nominated by: mystic maven