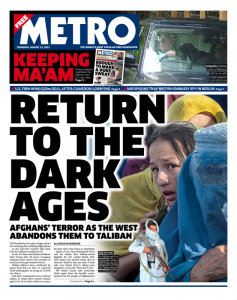 Metro are cunts. This is one of their latest headlines:
'Zahir, an asylum seeker who was due on the UK's first deportation flight to Rwanda says security officers had tied detainees up by their feet and that by staff from Colnrook House detention centre assaulted him.'
Metro, predictably, will automatically side with the poor innocent 'Zahir' and accept his word without question. Of course, 'Zahir' will be as pure as the driven snow, won't he? His sort never act up, get aggressive, or cause trouble, do they?
'Zahir' (not his real name, of course) claims he was a 'refugee' fleeing from Iraq. For starters, there is no war in Iraq to flee from. Also, notice all these asylum seekers and 'refugees' are all Middle Eastern and African men in their 20s and 30s, there are no women, girls, or kids. But Metro won't go into that though, will they?
Of course, those leftist turds at Metro will take this person's word for it. I don't believe that he or anyone else was tied up.
'Zahir' claims he was 'threatened' with being tied up, and he was told by 'friends' (more Iraqi men on the make) that they were tied up. In other words, it's all bollocks and hearsay. But Metro will believe it without question because they want to. They will do, say or believe anything to scupper the Rwanda deal and attempt to make these unwashed freeloaders and threats to UK security look good. But obviously threats to the British Public aren't on Metro's list of priorities. Metro are more concerned with not finding a Father's Day card with (get this) a 'Black Dad' on it.
Funny, all the times I got my old man a Father's Day card, I never saw a human being – black, white or otherwise – on them. I also never got my father a card with 'To my white dad' on it either.
The cunts are obsessed with trying to sell these types to us. Metro is anti white, anti heterosexual, anti British, and it's so bad they have to give it away. They also can't even spell 'assaulted'.
Nominated by: Norman