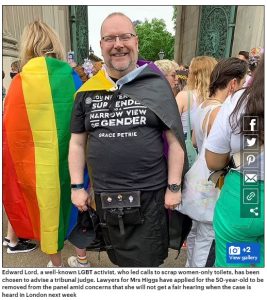 A teaching assistant raised concerns about the tranny indoctrination in our schools. She was promptly fired for having 'transphobic' views akin to a 'nazi'. Her own child is being indoctrinated with this shit and as a Christian and a mother, she is uncomfortable with such views. Fair enough I say. She shouldn't have to force this crap on kids. Isn't compelled speech illegal too?
She's going to an employment tribunal and the judge will have an advisor on the panel.
Who is it? Some chap named Edward Lord who uses the pronouns 'they/them'. Yup, he's a politician of sorts, but also a trans rights activist.
Lawyers for the teaching assistant and members of the public, have obviously expressed concern that this appointment is unfair and will lead to an unfair trial.
Has Mr Lord agreed to step down in the spirit of fair play?
Has he fuck!
And we thought the Chauvin trial was a crocodile court stitch up!
Get to fuck!
Nominated by: Cuntybollocks