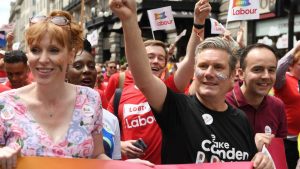 A mammoth cunting for wanabee PM and his "lady" deputy , Keir Starmer for going in the Pride Mince yesterday (July 2nd) sporting glitter round his eyes:
This pathetic graceless pudding of a man pretends to be the friend of every minority – black, tranny, bulldyke or poofter, so desperate is he to get the top job. I hope Rayner kept her legs closed for once.
The party of bum fun, men dressed up as wimminz, women dressed up like men – Christ knows what this country would become within weeks of this freak attaining high office.
He could just have sniffed a pair of Chris Bryant's underpants, but no where there is a camera there is Kweer performing, and the skidmarks on Bryants keks might not have been as photogenic.
Nominated by: W.C. Boggs