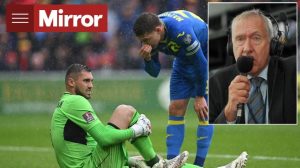 Martin Tyler is a Sky Sports commentator and was covering the Wales vs Ukraine World Cup play-off final when he committed that gravest of snowflakery sins; he offended someone on another persons behalf. Having said that the Ukraine goalkeeper would have to "soldier on" after an injury, the Twatter language Stasi erupted after conflating a well-used expression to convey battling through adversity, in this case an injury and the ongoing war in Ukraine.
He wasn't going to conscript him and send him onto the Donbas you soft as shite fannies!! These cunts are probably sat on their arses watching Netflix, ordering Deliveroo while WFH, they couldn't even find Ukraine on a fucking map.
They chose to ignore the context of the comment and instead responded with the typical reactionary bedwetting hysteria. So I suppose in games involving not just Ukraine but other teams with ongoing conflicts, no more attackers or going on the offensive and a rocket of a shot . When I was growing up watching football a popular expression was having "a shot like an Exocet missile". I don't remember survivors and the families of the dead from HMS Sheffield, sunk in the Falklands War, taking offence.
Tyler did quickly apologise on air and I can't really blame him, if he had left if for the Twatter pile on to fester a grovelling self-flagellating statement after the game would have been humiliating.
Maybe we can cancel this cunt, my feelings are hurt forty years later.
Nominated by: Liberal Liquidator