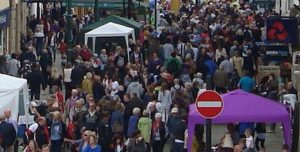 I live in the High Peak. As do a few fellow cunters. A month ago I threw my back out, so I've been largely bedridden. Anyway, this week I've been able to get some steps in and get wandering to walk off some of the growing girth that comes with working from what's essentially a gout chair.
Yesterday evening I popped down to Waitrose to have a scavenge in the cheap aisle and swing into one of the local pubs on the high street for a pint. Upon exiting, mine earholes were assaulted by a fuck load of Allah Elk Bar music. Perhaps this ethnic ditty was something played ironically by the students working in CEX.
Was it fuck. Here's why.
I walked down the hill to meet a very good fellow cunter for a drink and a chat. Intrigued by this cesspool of sound on my saunter down to the 'nice' side of this former spa town, I walked into the tip of the high street again. Same Sand People were there with their Nissan Grooming Wagon blasting out their music. And dancing. Proper "lightbulb, lightbulb" shapes.
Granted, these chaps of The Dark Hand own a shop there. However, the music they were playing and the amount of cack and filth they left behind their Nissan… this once wonderful spa town looked like Narborough Road in Leicester or when it's to brass tacks, Islamabad.
Prior to today, I thought I was moderate in my r@cism. Now I get why everything The West ever fought for is under attack. There will be Buxton Mosque next if we're not careful.
Liberation for Buxton.
Nominated by: CuntisCuntis