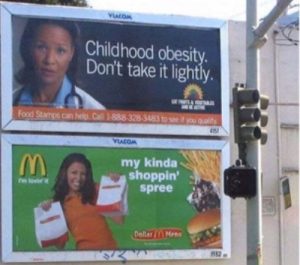 You SHALL have a healthy diet!
WHO are at it again, knowing what's best for us. Because we are too pigshit thick to realise, after years and fucking years of media, etc crowing on about it, that eating Big Macs several times a day isn't healthy.
And because of this, because 20+ years of healthy eating education isn't enough, we now have pending legislation to stop bogof, buy two, third free, etc, etc.
Why the fuck do these people interfere with our right to make a choice, and don't give me that time worn argument about the strain on the NHS.
Spend the money on the NHS, instead of supporting and promoting this shite.
Nominated by: Jeezum Priest