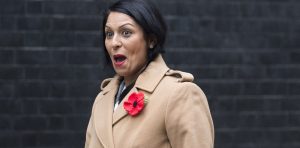 "Wot! You don't want a nice African vacation?"
I want to nominate Priti Patel as a cunt for her idea of sending our very brave dingy riding asylum seekers to Rwanda whilst they get their claims processed.
I think its racist for starters. Im a white UK citizen and to be fair I wouldn't mind a free government trip abroad with free flights and digs, Rwanda although a bit of a corrupt country, is supposed to be beautiful and you must be guaranteed a lovely nice tan. If there's a free bar at the this new Rwandan processing centre then Im all in.
You'll please excuse me now please, while I put on some gravy browning, buy a cheap dingy and float around the Devon coast for a bit hoping to get caught very soon by the UK Border Force. I think it may take a few days though as they appear to be a bit thin on the ground as they are on the water. I'll swallow my passport and regurgitate when I get fed up and want to come home.
I'm very excited that I will be probably making a lot of olive skinned friends. I think its a marvellous idea to pretend to be an illegal asylum seeker with the UK cost of living rise at the moment. What could better than a bit of Rwandan fun in the Sun!!
Happy holidays to you all, I'll send you all a postcard xx
Nominated by: Baldieboyz