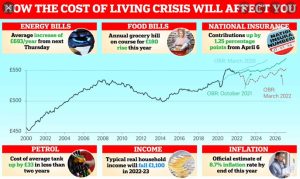 I recently heard this labelled as a 'Phenomenon.' But phenomena are impossible to explain. This "one" isn't.
You can blame, who you like; Covid. Brexit. Putin. The world markets. The weather/climate change, heat waves or droughts. Solar activity. The cost of raw materials. Supply and demand. The ever increasing population. (now 7.9 billion) or a plague of locusts on their most recent West Africa Tour.
So a combination of the above, perhaps? But then there's the corporate cunts. Those vultures cashing in, on everyone else's current misery. The ones that have made more coin, so far this year, on the back of our spending, than ever before!
This October, it will only get worse, because so far no cunt has had the gumption to stand up, above every other cunt and sort this thing out. and if no one does – lookout!
Not a phenomenon here, by all accounts, just a bunch of greedy cunts, taking the piss. and yes, on this occasion I will have to say "Up the revolution!"
Total cunts! The lot of them!
Nominated by: Lord Scunthorpe
---
And then there's this from Technocunt
Bank of England
Just what is the point of the BoE in times of a crisis?
The Governor, Andrew Bailey, said he is "helpless" in the fight against rampant inflation, ad warned of "apocalyptic" global fuel and food prices.
Of course he put some of the blame on the Ukraine conflict where unfortunately both protagonists are seemingly some of the biggest exporters of those very same elements. But despite that, food and energy prices were going up long before that kicked off in February.
Critics warned that the BoE should have acted sooner to the crisis rather than dither over half and quarter point rises in interest rates, as well as the need to reign in the need of printing money as if there was no tomorrow.
Bailey said "To forecast 10pc inflation and to say there is not a lot we can do about 80pc of it, I can tell you it is an extremely difficult place to be. We have to recognise the reality of the situation we face."
So that's alright then!
Of course the impotence of the BoE is exacerbated by the ridiculous policies of this government, not least its green net zero bollocks. But it is becoming glaring apparent that cunts like Bailey, and all the twats who sit around tables at the BoE discussing what to do about the economy are clearly out of their depth.
Not that they will care much because on their incomes they are probably well insulated from the shitfest we find ourselves in thanks in part to their incompetence.
And as for Sunak suggesting there is nothing the government can do to help the people out of the impending shitstorm, how about the following Departmental incompetence that he chooses to ignore:-
£36bn penalty to the EU due to Brexit
£8.7bn PPE written off
£37bn fraudulent Covid loans never investigated, written off.
£37bn Test & Trace written off
£512m ventilators never used, written off.
£500m Nightingales never used, written off.
£12bn earmarked for NHS social care, will probably be reallocated on management diversity bullshit.
£111bn+ for HS2 that hardly anyone will ever use.
Not forgetting a bloated public sector, who are already demanding pay rises of over 11%. And the many millions being spent on a daily basis looking after dinghy riders in 4* hotels.
But the government can't help us plebs get through this cost of living nightmare!
---
And here's one from Sick of it
Struggling to pay the bills is a cunt, or so we are told, inflation at 9%, gas and leccy prices sky high, food prices up and petrol and diesel at prices that no one could have anticipated.
BUT, hospitality so busy and can't find the staff, massive queues at airports with people heading off to the sun, unemployment at its lowest level for 50 years and allegedly more vacancies than available unemployed people to fill them.
It's a fucking joke, ok there are some who will be finding it hard, the bone idle and serial benefit claimants but the two paragraphs above suggest the contradictions, all we here is a 'windfall tax', a silver bullet, the answer to the Great Depression but there are muted calls to do something about the blatant profiteering on the fuel forecourts, why aren't the government putting pressure on retailers to cut cost, answer because the higher the price the more VAT, kerching
The moral of this story is stop fucking bitching about the the cost of living and to fucking get on with it! This once great country has become a bunch of pussy wiped tarts.
I have just blown the £150 rebate paid via the council tax system, on none essentials, thanks Rishi