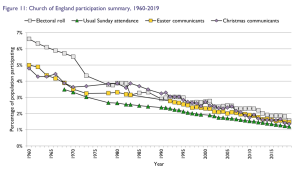 (Graph shows another reason why the CoE is completely out of touch – Day Admin)
"Church of England apologizes for 800-year-old antisemitic laws"
Now let's see. that takes us back to the 1200s.
How very contemporary.
Shouldn't they apologise for the Norman subjugation of Britain which they aided and abetted?
The Crusades? Surely that's woke enough.
The corruption of the clergy?
Serfdom? No, it only affected white Britons.
The dead builders who built the churches, Qatar style? Nope, no efniks involved.
Heresy and witchcraft trials and executions? Again, only white Brits. Fuckem.
A long history of pee doh Philia? And of course cover-ups, which persists to this day.
What a fucking disgrace this collection of mealy mouthed cunts is. I am no anti-Semite but the selective wrongs this disgusting bunch of woke cunts picks up is fucking unbelievable.
Nominated by: Cuntstable Cuntbubble