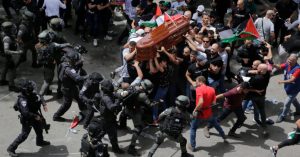 A nomination for the rag heads who can't resist being cunts even when burying a 'respected journalist', but as usual it is Israel who get criticised.
A woman journalist was shot during some exchange of fire between Palestinians and Israeli police, each blame the other for her death.
Fast forward to the funeral and the rag heads decide to display the Palestinian flags all over the place which isn't allowed so it all kicks off and the Israeli forces give the cunts a kicking. Isreal is at fault, as always, but what is it with these Muslim/Rag head funerals, nothing dignified about them it looks more like a fucking a crowd trying to get to the last virgin in Jerusalem.
Our lot could learn a few tips from Israeli police when it comes to 'community sensitivities' a swift crack around the head with a baton helps to ease tensions.
Nominated by: Sick of it