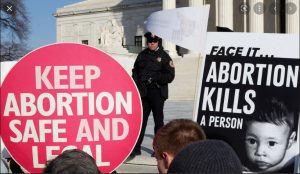 Whoopie Goldberg pointing, jabbing the air. 'this is MY BODY'. Elizabeth Warren jabbing the air as well—'I'm as mad as hell'.
Contrasts sharply with the calm, considered legal Opinion of Samuel Alito that has been leaked.
Which I've just read.
I wish I could download it to the site but I cant.
Goes through how incredibly weak the original judgement for Roe was. How abortion is not mentioned in the Constitution. No legal precedent for the Decision.
I am not sure if he uses the phrase but basically an example of 'legislating from the bench'
It was.
I confidently expect violence. The Justices are targets, Catholic churches definitely.. Oh well.
A bit premature but I suspect the majority on here will be pro-choice. I did this before with my Humanist UK Nom asking the question –shouldn't you be more careful of the company you keep?
I mean the screeching Pocahontas. Whoopie Goldberg disclaiming hysterically. Kamala Harris 'How dare they..?
Will this be the catalyst that will finally bring a second civil war to America? I have been thinking for a long time that's the way they were headed.
Oh, I did it.
Nominated by: Miles Plastic
---
And Miles does it again with this similar observation
Zero Awareness
"Pelosi says Supreme Court "slapped women in the face" with draft opinion in abortion case – YouTube Link
Absolute zero awareness wishing each other 'Happy Mother's Day' then straight onto Abortion. Not the slightest unease at all.
Just so you get it here's the transcript of the opening-
'Margaret Brennan.  And we go now to the top Democrat in Congress, House Speaker Nancy Pelosi, who joins us this Mother's Day from San Francisco.  Happy Mother's Day to you, Madam Speaker.
Speaker Pelosi.  Thank you.  Happy Mother's Day to you, Margaret.
Margaret Brennan.  Thank you.  And before we get to abortion, we did have….'
Something about the First Lady visiting Ukraine…it goes on…
was listening to Ben Shapiro about his thoughts on the Pro-Choice side. Said something like 'they just ignore one side of the argument'. Namely of course the fetus.
Like another I heard when asked about 'when life begins' simply replied 'oh, I'm not getting into that'.
How things change, how things move. Roe v Wade will never be overturned. It is 'settled law'. It will never be overturned….until it is.
We have Donald R. Trump to thank for getting these conservative justices onto the Supreme Court. That will be his greatest Legacy in my opinion.