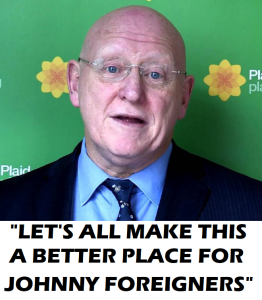 An oggy, oggy, oggy, fuck, right off cunting, for this sheep bothering Welsh MP.
Old Hywel, you see, is concerned that fighter jets doing military exercises in his constituency could be traumatising Ukrainian refugees, isn't it Boyo?
I'm not cunting him for that in itself, as people can obviously be traumatised by war. Especially if they've just escaped their own city being bombed. Although why the fuck change anything militarily we or our allies do in our own land for fucking refugees? But I digress.
No, it's the fact he's concerned about refugees getting a bit PTSDy, but not our own fucking soldiers or ex soldiers in his constituency. I would wager he's got many more of those, the fucking virtue signalling shithouse.
https://www.bbc.com/news/uk-wales-61257706
Nominated by: Cuntybollocks
---
And on a slightly different tangent, there's this from Norman
Migrant moaners are total cunts.
Apart from being 'refugees' fleeing from – well, absolutely nothing (they aren't Ukranian) – and arriving here with iphones and Nike trainers and having the life of fucking riley, these cunts are now blubbering about their 'lot' and how they are being 'forced' to scarper to Ireland, as they are 'terrified' of being sent to Rwanda.
Oh dear, how sad, never sodding mind. They are 'terrified', eh? Well, so were the poor innocents at the Manchester Arena. So was Drummer Lee Rigby (RIP) as two of these lovable fuzzie wuzzies murdered him in the street. And don't even get me started on the butchering of Sir David Arness (RIP).
So they all frig of to Eire? That suits me. And fucking off to Rwanda would be even better. It would make Britain a much a safer place.
Terrified, my arse. No sympathy whatsoever.