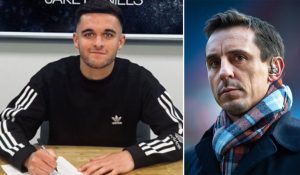 Welcome to our latest member of the arse ticklers, faggots, fan club and why is it we have all these cunts who are determined to label themselves as damaged in some way, shape or form, its obviously attention seeking, to try and boost his value as a player[let hope for his sake he can deliver the goods on the pitch],
Needless to say the ubacunt Garry wingnut Liniker has come out in favour of the hemeroid harasser, anything to get some tv footage of his funny fucking face.
Not being a football hoolie sorry fan myself i cant say for sure the kind of reception he,s going to get for coming out as a chutney ferret, until of coarse he fucks up and misses a goal, then I'm sure effigies are going to be burned in the car park and he,s going to be offensive chats and songs from the stands.
We will then see him in tears and ubacunt Gary will be on the telly again saying how disgusted he is that not everyone is onboard with accepting whatever perversion comes down the road next.
Nominated by: Fuglyucker