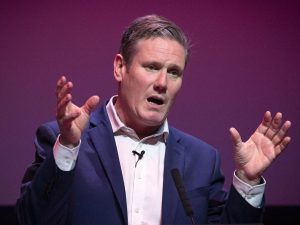 Not content to claim that it's 'not right' to say that 'only women have a cervix' (Daily Mail Link 1), this spineless buffoon now can't bring himself to deny that women can have a penis (Daily Mail Link 2).
To think that this walking, smirking haemorrhoid could be the next prime minister of Great Britain and Northern Ireland. Fuck me sideways, imagine him and Sleepy Joe on the world stage vs Xi Jinping? If he can't accept that women don't have a meat and two veg in their knickers, what other shite is he going to deny? That gravity isn't real? That 2+2 doesn't equal 4? It sounds too much like 1984 dystopian bumfoolery.
Labour leaders of old carried about them a certain dignity, campaigning for the rights of working people, forged in the dignity of toil. None after about 1950, obviously, but nevertheless it's hard to imagine the likes of Clement Attlee or Ramsey MacDonald squirming when asked by the Nick Ferrari of their day whether it's possible for biological women to have a throbbing 'pensioner's leg' between their thighs.
Of course, this is merely the tip of a very rancid iceberg. I'm sure that most other 'members' of our once great parliament will soon morph into lefty, virtue-signalling, fantasists denying biological fact.
Women don't have cocks, but Labour certainly has a cunt for a leader.
Nominated by: Cunty McCunt
Seconded by: CuntyMort
Well well, another cunt crawling from underneath its stone backing the treasonous statement of Fabian Hamilton. Isn't it about time that action was taken against these cunts?
Apparently not being able to tell the difference between a man and a woman he now ups his game to this shit.
Has it not occurred to these two that hacking Trident could cause a nuclear launch and all of us going up in a nuclear conflagration?