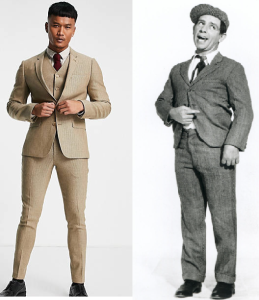 Find me sartorial instincts offended by what da yoot, and alas da not so yoot, are wearing. Not so much suited and booted as squeezed and castrated, todays Woke Warriors have taken to wearing what is apparently known as 'the super skinny suit'. Yank in origin, say no more, these bollox squishing two sizes too small garments started making an appearance on actors on American chat shows then corporate sponsorship compelled old ugly fucker James Bond aka Daniel Craig to wriggle into one and, God knows how, do a lot of running about on rooftops.
The epitome of fashion? My arse. Go back a bit and '50s film star and man of the people and doyen of Albanian Dictator Enva Hoxa, little cunt Norman Wisdom was capering around in the old two sizes too tight.
"Mr Grimsdale! Oi' Mr Grimsdale my cock is stuck in my trousers an' it don't 'arf hurt"
Cue syrupy Norman song later released on 78 where due to a lot of payola it stayed at no 1 for six weeks and was subsequently found in an old dead cunt's cupboard during a house clearance. The Don Black lyric also gives an explanation for the famous Norman comedy walk.
Don't cry for me because I'm a fool
I have tears in my eyes
Because I slipped and split me tool
So my dears for once the Norman Wisdom look is bang on trend and punted out this very moment by overpriced online outfitters to da yoot Asos or do I mean Arse'oles? It goes with the tufty quiff barnet and shoes worn without socks with pointy toes that curve up. I definitely mean Arse'oles.
Go here to Tossers Fashion:
And here for Stormin' Norman:
Nominated with photos by: Sir Limply Stoke